This lemon meringue pie is a hit at every family function and get-together! It ties together old school, home-cooked tastes with a keto-friendly twist.
This pie is packed with loads of flavour and is the perfect accompaniment to any holiday feast. The tasty and flaky crust ties in perfectly with the lemon-packed filling and deliciously fluffy meringue topping.
At first glance, meringue pies seem simple to make, but they will challenge even the most distinguished baker. Although this dessert is a little more difficult than our Blueberry Cheesecake Squares, it's foolproof if you follow the directions carefully.
Be mindful when storing the baked pie—it will only last a few days in the fridge! We recommend eating it within the first day of baking it, as the meringue will begin to sweat, accumulating liquid between the layers.
With a high-fat content and only 3g of carbs, this delicious pie is our go-to recipe. You'll be dreaming about this dessert for days. Trust us.
Let us know how this delicious Lemon Meringue Pie turned out for you!
If you loved this recipe, check out our Low Carb Pumpkin Pie Pudding.
A Simple Tip:
If you're having trouble with getting the filling to thicken, try adding Xanthan Gum. It is also Keto and a great thickening agent.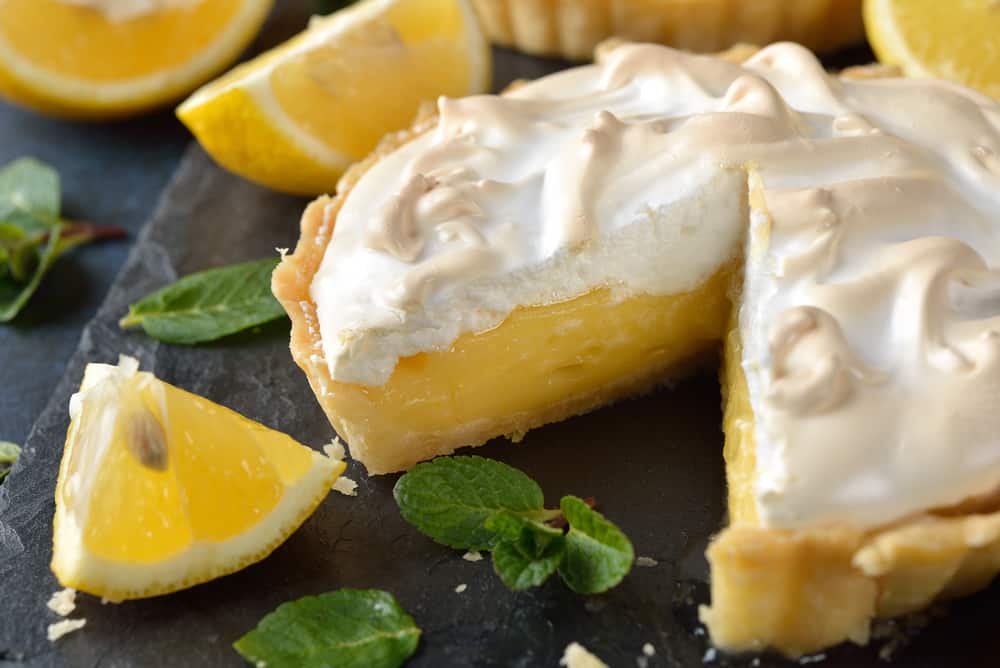 Passive Time

30

Minutes for Pie to Cool and Settle
Passive Time

30

Minutes for Pie to Cool and Settle
Preheat oven to 350°F. Use a food processor to combine and pulse all the ingredients for the crust. Press crumbs into your pie pan and bake for 10-12 minutes.
Combine sugar, gelatin, salt, arrowroot and water in a saucepan and bring to a boil while stirring constantly for 1 minute.

Beat your 4 egg yolks and pour some of your gelatin mixture into the beaten yolks. Stir and pour this back into the saucepan to cook until it has thickened. Warning: Do not allow the mixture to go above 160°.

Whisk the lemon juice, butter, and lemon zest together into the egg/gelatin mixture and then remove your saucepan from heat.
Beat the egg whites with cream of tartar at a low speed in a bowl until it becomes light. Slowly pour in sugar and beat until stiff peaks form.
Pour the egg and gelatin filling into the pie crust and cover with the meringue. Add extra meringue to the centre and make sure all the edges are sealed.

Bake the pie for 30 minutes or until the meringue is lightly browned. Set aside for one hour, then keep in the refrigerator for another 4-5 hours.
Nutrition Facts
Keto Lemon Meringue Pie
Amount Per Serving (200g)
Calories 621
Calories from Fat 486
% Daily Value*
Total Fat 54g 83%
Cholesterol 87mg 29%
Sodium 217mg 9%
Potassium 299mg 9%
Total Carbohydrates 22g 7%
Protein 12g 24%
* Percent Daily Values are based on a 2000 calorie diet.
(Visited 31,050 times, 324 visits today)