Here looking for your next favourite keto fat bomb flavour?
Bombs are packed full of healthy fats and proteins which makes them the perfect snack food for those of us on a keto diet.
I have a collection of go-to fat bomb recipes that are great for breakfast, appetizers, and desserts too.
Before we dive into my top 10 list, I'll explain fat bombs for those of us new to the keto game.
What's a Fat Bomb?
Typically a small cup or ball, keto fat bombs are high-fat low-carb (HFLC) snacks that provide lots of energy and healthy fats.
People love them typically as a snack or pre and post-exercise.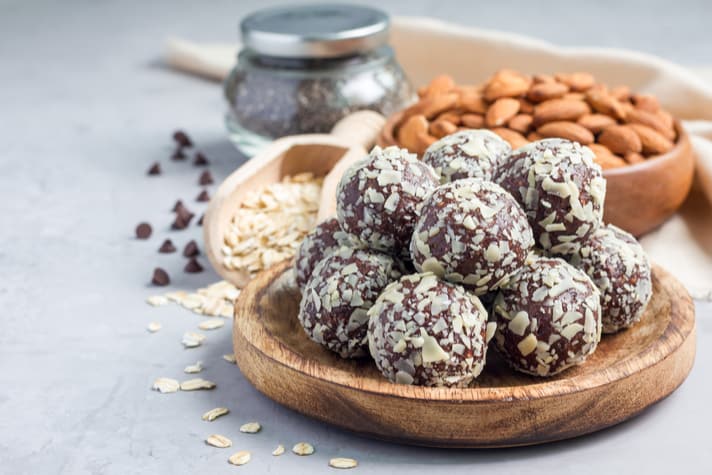 Popular ingredients include coconut butter and oil, peanut butter, chocolate, bacon, and cream cheese, among other things.
The sky is really the limit, as long as you leave carbs out of it!
How Do Fat Bombs Fit Into Keto?
Fat bombs are complementary to the keto diet as they help you to meet the daily quota of healthy fats you need.
They also give you a boost of energy, can be sweet or savoury, are quick to make, need minimal ingredients, and are very tasty.
You can invent your own fat bomb combinations, you just need to follow three simple steps. Use this handy infographic created by KetoSummit.com as your guide:

Really the most difficult part of fat bombs is eating them in moderation.
Be careful not to binge on these because trust me, you'll want to eat them all!
10 Keto Fat Bomb Recipes
Now let's get into my 10 favourite keto fat bomb recipes.
I've selected a mix of dessert, breakfast, and snackable options for you to sample.
I'm always open to testing out new flavours, so if you have a suggestion for me please leave it in the comments!
Want more keto sweets? Give these recipes a try:
Keto Brownies
Smoothies in 5 Minutes or Less
Cinnamon Butter Cookies
(Visited 3,807 times, 239 visits today)