Who doesn't love cheesecake?
These sweet and creamy Keto blueberry cheesecake squares are enough to satisfy any sweet tooth craving. It is the perfect dessert to take to any dinner party.
With only a few simple steps you can bake up a batch of perfection to enjoy after any meal.
This keto friendly cheesecake is going to take us two steps, the first step, we're going to make the crust, then bake that.
Secondly, we'll make the cheesecake, add it to the completed crust and then bake the combination of the cheesecake and the crust together.
The crust in this recipe contains 193.2 calories, 15.29g fats, 3.34g net carbs, and 6.51 grams of protein.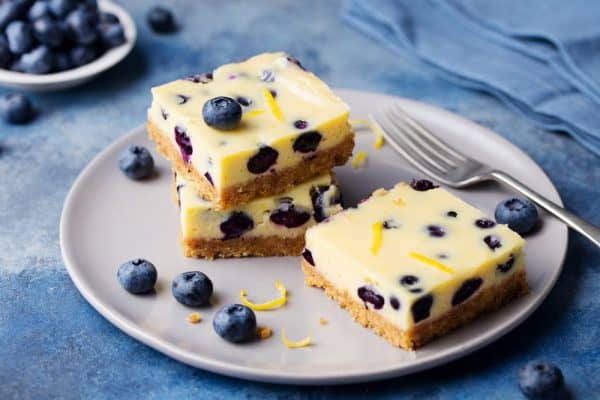 Keto Blueberry Cheesecake
| | |
| --- | --- |
| Keto Blueberry Cheesecake | |
Mix the dry ingredients together in a bowl: 1/2 cup almond flour, 1/2 cup coconut flour, 2 tablespoons of psyllium husk powder and 1/4 teaspoon of salt.

Scramble the 2 large eggs in a small bowl or measuring cup and let them sit for a moment.

Add 2 tablespoons of coconut oil to the dry ingredients and work it into the dry ingredient mix (your flours). You should have a good "sandy" consistency to the mixture.

Add the eggs to the mixture in the bowl and mix in well.

Add ice cold water until you reach a consistency where you can work with the dough, it should still look a bit sandy as you're mixing, but if you use your hands, it should stick together.

Knead the dough into a ball and let sit for 5 minutes.

Form the ball of dough into a square and cut out 4-5 sections.

Push the dough into a square pan and work it in. You want to dough to be relatively thin – you should have enough excess to create more keto desserts.

Preheat oven to 320F. Line an 8" square pan with parchment paper.

Once you're done, par-cook the dough for 12-15 minutes at 350F.
Keto Blueberry Cheesecake
In a large mixing bowl, add all ingredients except for the blueberries and blender together with an electric beater.

Pour the mixture into the square pan with your cooked keto crust.

Top the cheesecake mixture with frozen blueberries and allow them to sink slowly as it bakes.

Bake for 25 minutes or until center is cooked.

Allow the cheesecake to cool and cut into squares. Serve and enjoy!
Nutrition Facts
Keto Blueberry Cheesecake Squares
Amount Per Serving
Calories 358
Calories from Fat 306
% Daily Value*
Total Fat 34g 52%
Cholesterol 205mg 68%
Sodium 174mg 7%
Potassium 61mg 2%
Total Carbohydrates 9g 3%
Protein 9g 18%
* Percent Daily Values are based on a 2000 calorie diet.
(Visited 7,043 times, 250 visits today)