Sometimes, a keto-friendly diet can be difficult as you may feel like you're giving up foods you love. While there are some foods you should give up like potato chips, you don't have to give up the best thing about chips — the delicious and tasty dips.
Beware that lots of store bought dips have hidden carbs in them. To ensure your dip is healthy and follows your keto diet, we suggest you make one from scratch. Plus, it will taste way better and fresher too.
This wonderful Creamy Spinach Dip is the ultimate keto dip as it's full of delicious cheeses! With a combination of parmesan, mozzarella, and cream cheese, you'll never buy store bought dip again! Enjoy this dip with fresh cut veggies or with your favorite low carb chips.
Impress your friends and bring this healthy dip to your next party.  You can even make up a batch for the big game. Maybe even make double the batch as this dip will go fast!
Throwing a huge party? Make these Crispy Tater Tots as well!

(Visited 1,833 times, 72 visits today)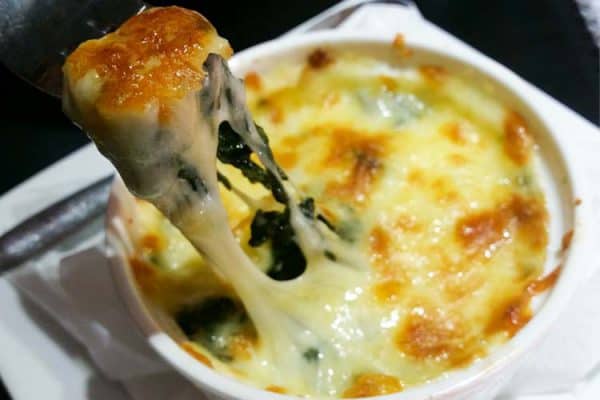 | | |
| --- | --- |
| | |
Melt the cream cheese in the microwave.

Add the mayo and combine.

Add the shredded Parmesan, basil, garlic, salt and pepper.

Thaw the spinach and combine with the other ingredients.

Grease an 8x8 dish and evenly spread the dip.

Cover the top of the dish with shredded mozzarella.

Bake at 350 for 30 minutes, then broil if the cheese is not done.