Cheesy Scalloped Potatoes are a great way to make you feel warm inside…until you remember exactly how many carbs that equates to (about 300!).
If you're looking for a low carb replacement for potatoes, look no further. Recipes for keto potatoes may use cauliflower as a replacement, but there's actually an even better tasting ingredient for making a low-carb potato gratin.
Rutabaga, or swede if you're fancy.
Root Vegetables: The Rutabaga
Rutabaga belongs to the cabbage family as it's a root vegetable (which is a cross between turnips and cabbage). They contain many nutrients such as high levels of potassium, magnesium, calcium, and iron.
Some of the health benefits range from improving digestion, boosting the immune system, and lower blood pressure.
Can your potato chips do that? I thought not.
This recipe makes for an amazing side dish that's just oozing with goodness (hello cheddar cheese) whilst curbing those carbs.
Warning:
This vegetable is a bit of a challenge to prepare with for one's first try. Make sure you wash it thoroughly to remove any dirt. Place it on a cutting board and cut the top and bottom parts.
You can also use:
Scalloped turnips (4.6g net carbs)
Radishes (1.8g)
Kolrabi (2.6g)
or parsley roots (1.7g) instead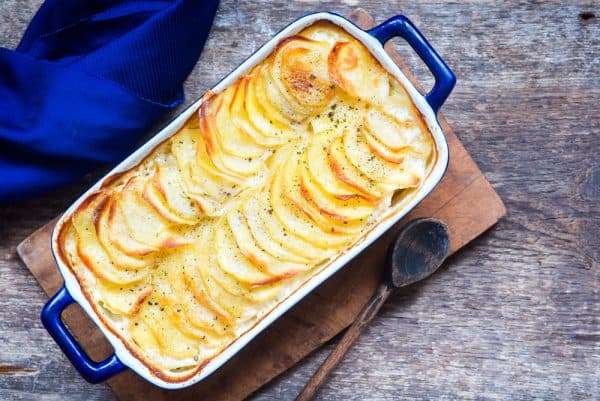 | | |
| --- | --- |
| | |
Preheat the oven to 320°F. Begin by slicing the onion and placing it in a hot pan lightly greased with ghee. Cook the onions for up to 5 minutes while stirring over a medium heat until fragrant.

Add sliced bacon to the cooked onions. Then add thyme and cook until the bacon is lightly browned. Set aside.

While the bacon and onions rest, peel, then thinly slice the rutabaga into 1/4 cm slices. You should have 3 layers worth of rutabaga.

Grease a large baking dish with ghee and place one layer of sliced rutabaga. Cover the first layer with your bacon and onion mix with a half cup of the grated cheddar cheese. Repeat.

Finally, for the last layer of rutabaga slices, combine the cream, chicken stock, salt, and pepper in a separate bowl and pour over the last layer until almost covered. Season to your liking if needed.

Cover the baking dish with aluminum foil and place a cookie sheet or another baking dish underneath the gratin to catch any juice drippings. Bake for 1 hour, covered.

After the hour, the rutabaga will soften. Remove the aluminum foil and push the rutabaga down with a spatula to immerse it with the cream mixture (prevents drying out!). Bake for another 45-60 minutes while routinely pressing the rutabaga down every 15 minutes or until the rutabaga gets tender.

After the hour, take it out of the oven and spread the creme fraiche and grated parmesan cheese on top. Meanwhile, turn the oven up to 400°F.

Bake the gratin for another 20-30 minutes (until the cheese has melted).
Nutrition Facts
Low Carb Rutabaga "Potato" Gratin
Amount Per 227g
Calories 179
Calories from Fat 135
% Daily Value*
Total Fat 15g 23%
Cholesterol 49mg 16%
Sodium 641mg 27%
Potassium 42mg 1%
Total Carbohydrates 19g 6%
Protein 10g 20%
* Percent Daily Values are based on a 2000 calorie diet.
Suggested Keto Recipes:
(Visited 18,164 times, 551 visits today)