The appetizer table is always a hit at any big function. In fact, it may also be where unintentionally load up on excessive carbs and calories if you aren't paying attention. As a health conscious individual, you want to try and enjoy yourself and give into your cravings, while still sticking to your keto lifestyle and reaching your goals. We love providing you with great ideas that fit the bill not only for your diet but your taste buds too. You have to give in a little so you don't feel deprived and get to enjoy a variety of foods that will keep you satisfied.
Stuffed mushrooms are always a good choice for an appetizer as they are healthy, low carb and full of flavor. This versatile veggie has always been a top pick for a pizza topping and that's why we've played up a pizza inspired recipe that will make your mouth water. Rich in flavor and vitamin dense, stuffed mushrooms are easy to prepare and always a crowd pleaser. This recipe can be a healthy alternative to a carb loaded meal, and you still get your food fix for cheesy, saucy and delicious.
Enjoy this as a healthy appetizer or pair alongside a grilled chicken or steak for a keto friendly dinner.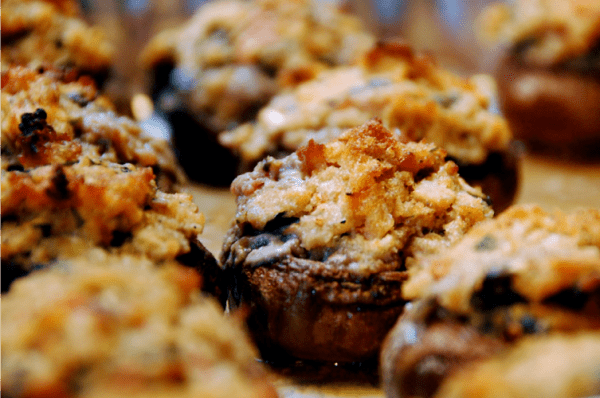 | | |
| --- | --- |
| | |
Preheat your oven to 375 degrees.

Remove mushroom stems, chopped them into small pieces and set aside.

Use a small spoon or strawberry huller to scoop out insides to make room for filling.

In a pan, add olive oil and minced garlic over medium heat.

Add chopped mushrooms for 5 minutes and set aside to cool.

Stuff cooked mushroom stems into the mushroom caps.

Add 1 tablespoon of pizza sauce on top, your favorite toppings and top it off with lots of cheese.

Place on baking tray and bake for 18-20 minutes, or until cheese is melted and browned. Let cool a bit before serving.
Nutrition Facts
Pizza Stuffed Mushrooms
Amount Per Serving
Calories 30
Calories from Fat 9
% Daily Value*
Total Fat 1g 2%
Cholesterol 3mg 1%
Sodium 52mg 2%
Potassium 73mg 2%
Total Carbohydrates 3g 1%
Protein 2g 4%
* Percent Daily Values are based on a 2000 calorie diet.
(Visited 874 times, 95 visits today)