Turkey is a staple around many holiday tables.
It's full of protein, nutrients, and vitamins, so we are already off to a healthy start.
Turkey is also a lean meat and very low in calories, especially if you don't eat the skin or bask it in oil.
By preparing this delicious keto turkey brine recipe, you will have a flavorful turkey and the meat will remain tender. Using a brine bag is a great trick to keep the juices locked in because let's face it, dry turkey is the worst.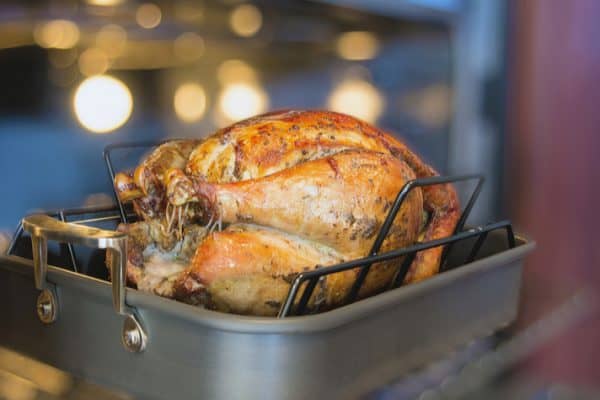 | | |
| --- | --- |
| | |
Wash your turkey and pat dry with paper towel before you take out all the innards. You can choose to discard the innards or keep them for use in your stuffing, known as giblets.

Combine the vegetable broth, seat salt, pepper, thyme, savory, rosemary, and water in a large pot and bring to a boil.

Once you're sure the salt has dissolved, remove the pot from heat and let cool to room temperature.

Place the turkey breast down in the brine using a deep dish pan so it saturates it inside and out. Let it sit refrigerated overnight to marinade (24 hours).

You may also choose to use a brine bag: place the double bag, mouth open wide and facing up, in the roasting pan. Fold back the top one-third of the double bag to help keep the bags open). Place the turkey inside the double bag and pour the room temperature brine over the bird. Now you may marinade for 24 hours.

Before you cook the turkey, drain off some of the excess brine.

Preheat your oven (the temperature depends on the weight of the turkey. If your turkey is roughly 10 pounds, preheat your oven to 325 degrees and expect to cook it for at least 3 hours).

Check your turkey every hour to avoid overcooking as brining tends to reduce cooking time.

Cook for a minimum of 3 hours, then remove and let sit for 10 minutes before carving.
When choosing the size of your turkey, remember that birds smaller than 16lbs should serve one person per pound of meat.
When cooking your turkey, you can add 1 cup of chopped onion and 1 cup of chopped parsnips to the bottom of the pan surrounding the turkey for extra flavour.
Nutrition Facts
Simple and Tasty Keto Turkey Brine
Amount Per Serving
Calories 487
Calories from Fat 72
% Daily Value*
Total Fat 8g 12%
Cholesterol 194mg 65%
Sodium 14072mg 586%
Potassium 1395mg 40%
Total Carbohydrates 22g 7%
Protein 78g 156%
* Percent Daily Values are based on a 2000 calorie diet.
(Visited 14,179 times, 165 visits today)