Lasagna is a staple for busy people and families because it's an easy recipe to freeze for later. You can make it ahead of time, cook it, put it in the fridge, and you've got leftovers for days! The traditional lasagna recipe is heavy in carbs, so we went looking for a low carb substitute. We love spaghetti squash so we decided to swap the noodles for this delicious vegetable and we fell in love! This low carb substitute is very similar in texture to pasts so it will satisfy your pasta craving for days!
This versatile, low-carb gourd makes the perfect substitute for noodles. Just add some tomato-based meat sauce, ricotta, mozzarella, parmesan, and you've got an attractive alternative to a traditional dish. This dish is a great option for entertaining on a keto diet, and if you want leftovers, simply double up the recipe!
If you're looking for a nice started salad recipe we've got you covered with our low carb, high-fat garlic dressing!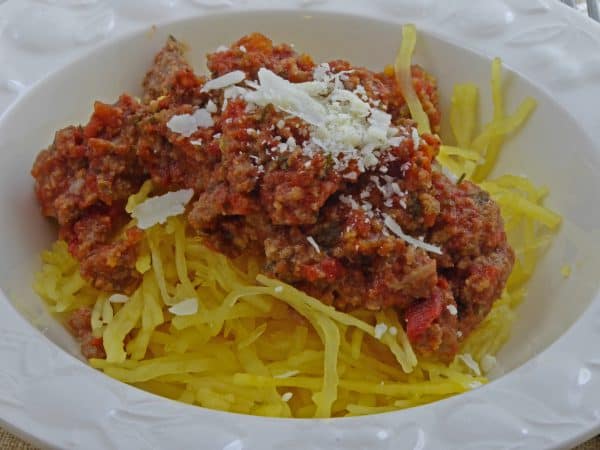 | | |
| --- | --- |
| | |
Preheat oven to 400 degrees.

Cut spaghetti squash in half lengthwise, use a spoon to scoop out the seeds, and brush the cut sides with oil. Add salt and pepper, to taste. Place on a baking tray cut sides down. Bake 30-35 minutes, or until tender.

Meanwhile, sauté onions and garlic with olive oil in a deep skillet over medium heat. After 2-3 minutes, add the meat to the skillet, stirring frequently, until cooked throughout, about 10 minutes.

Add marinara sauce, stirring to combine. Reduce heat to a simmer, stirring occasionally.

Meanwhile, combine ricotta, egg, parmesan, mozzarella, oregano, basil, thyme, and oregano in a small bowl.

Remove the skillet with the meat sauce from heat.

When the squash is finished cooking, use oven mitts to turn squash face-up on the baking sheet. Spoon the herb and cheese mixture into the bottom, dividing it equally between the four halves of the squash.

Finally, use a ladle to add the meat sauce, filling the squash. Sprinkle with parmesan and mozzarella.

Bake for an additional 10 to 15 minutes, or until cheese is browning at the edges. Let cool 5-10 minutes before serving. Serve immediately or save some for the next day!
Nutrition Facts
Lasagna Stuffed Spaghetti Squash
Amount Per Serving
Calories 1477
Calories from Fat 846
% Daily Value*
Total Fat 94g 145%
Cholesterol 345mg 115%
Sodium 4062mg 169%
Potassium 1405mg 40%
Total Carbohydrates 57g 19%
Protein 103g 206%
* Percent Daily Values are based on a 2000 calorie diet.
(Visited 1,223 times, 63 visits today)