Low-carb keto diet plans are the best. They are flexible and work within your busy life schedule. Also, you don't have to be afraid to indulge. These low-carb chocolate keto brownies are totally keto-friendly.
You don't have to starve yourself or cut out your chocolate cravings – you just satisfy them with a smart low-carb snack. Let's face it, sometimes we are just craving a big old brownie, and that's ok. We have this delicious recipe that will fit within your daily macros.
In this recipe we use almond flour. Almond flour is a super food, it's low-carb and far more nutritious than most other flours you can find. Almond flour is a great choice for my family because it's far more nutritious than typical starchy gluten-free flours such as rice, corn, and potato.
But swapping out a few ingredients and adding some extra nuts for protein, you've turned a guilty pleasure into a low-carb keto approved snack!
Recommendations
Try this Keto Blueberry Cheesecake if you are interested in more sweet treats!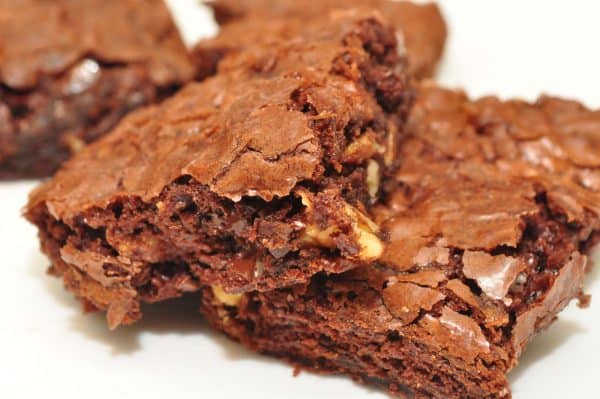 | | |
| --- | --- |
| | |
Preheat oven to 350 degrees and spray an 8x8 or 9x5 inch baking pan with non-stick spray.

Combine the almond flour, cocoa powder, salt, and baking powder in large bowl.

Melt the 4oz. of semisweet chocolate with the 1/2 cup butter in small bowl.

While the chocolate is melting, beat the eggs, vanilla, coffee and sweetener together in a medium-sized bowl.

Slowly pour the melted chocolate into the egg/sweetener mixture and whisk to combine.

Add the chocolate mixture into the almond flour mixture and mix until well combined.

Bake for about 27-30 minutes.

Be sure that a toothpick comes out clean and dry! (cool completely)
Nutrition Facts
Keto Brownies
Amount Per Serving
Calories 241
Calories from Fat 216
% Daily Value*
Total Fat 24g 37%
Cholesterol 22mg 7%
Sodium 74mg 3%
Potassium 244mg 7%
Total Carbohydrates 22g 7%
Protein 5g 10%
* Percent Daily Values are based on a 2000 calorie diet.
(Visited 7,709 times, 136 visits today)