Being dedicated to a Keto diet can be stressful during Easter dinner, but enjoying a hearty meal with your family does not have to be so hard! Combining familiar flavours with Keto twists takes the hassle out of the holiday.

To make it easier for you, we've put together a list of our five favourite Easter-inspired Keto dishes to help you feed your family and stick to your meal plan! Don't sacrifice flavour when it comes to these recipes!
Get together with your family, eat plenty, and enjoy!
Low-Carb Pineapple Baked Ham
Serve up everybody's favorite Easter dish simplified to fit into your Keto diet. Pineapple, dijon mustard, and honey fill this main course with loads of flavor, fun and healthy fats. The sweet and salty contrast is sure to leave the table wanting more. 
If you're tight on time, go ahead and pick up a pre-seasoned ham from the grocery store. However, be mindful of the ingredients if go this route.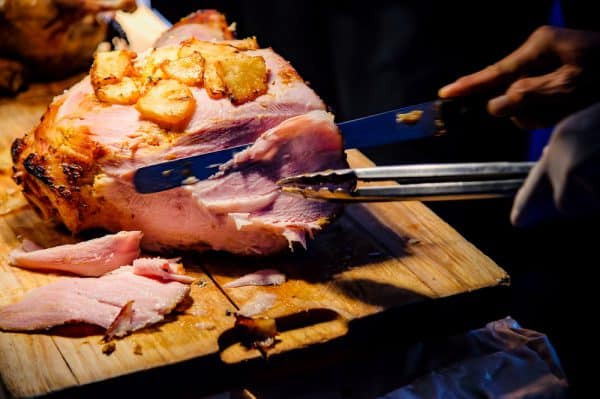 | | |
| --- | --- |
| | |
Combine the pineapple juice, pineapple chunks, honey, mustard, cloves, and water in a saucepan placed over medium heat.

Cook the sauce mixture until the honey has dissolved (about 5 minutes). Set aside.

Trim the fat off of the defrosted ham. Make shallow scores in the ham's skin (in a diamond or criss-cross pattern).

Place the ham in a roaster, and make sure that the lid is able to close completely. If the ham is too large for the roaster, then trim some excess meat off.

Using a brush, spread about half (or a bit less) of the sauce mixture onto the ham. Add a half cup of water to the bottom of the roaster.

Cover the ham and roast for one hour (feel free to baste the ham throughout the hour to ensure that the flavour saturates the meat).

After an hour, take the ham out of the oven and drain the excess water if needed. Pour the rest of the sauce mixture over the meat. Make sure that it gets into the scored pieces of the ham.

Place the pineapple rings on the ham. Feel free to get creative with this! TIP: If the pineapple rings won't stay in place, use toothpicks to secure them.

Place the ham back in the oven, uncovered for another hour or until it is browned to your liking.

Take the ham out of the oven. Slice and serve. Enjoy!
Nutrition Facts
Low-Carb Pineapple Baked Ham
Amount Per Serving
Calories 33
Calories from Fat 63
% Daily Value*
Total Fat 7g 11%
Polyunsaturated Fat 0.0003g
Monounsaturated Fat 0.003g
Sodium 27mg 1%
Potassium 20mg 1%
Total Carbohydrates 3g 1%
Protein 0.01g 0%
* Percent Daily Values are based on a 2000 calorie diet.
Delicious Bacon and Chive Keto Deviled Eggs
This famous appetizer features every Keto enthusiast's dream ingredient: eggs. Eggs are high in fat content and a great source of protein. Add some crispy bacon and fresh chives for a twist that will leave your family asking for more.
Preparing a large meal is about being fast yet efficient and peeling eggs is no ones favourite task.  Add a pinch of salt and some vinegar to the water as you boil them to make peeling easier.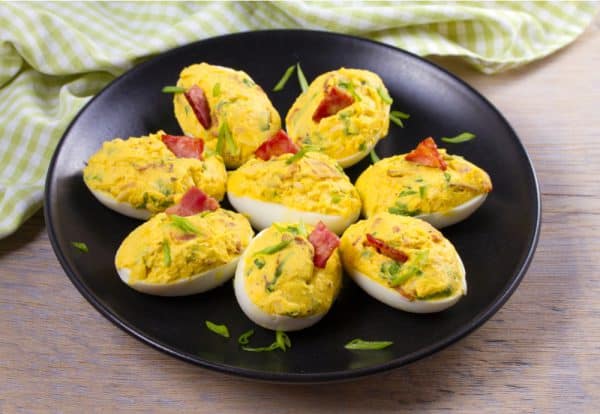 | | |
| --- | --- |
| | |
Peel your 6 hard boiled eggs and cut them in half.

Carefully take the yolk out of the halves, place them in a medium-sized bowl, and mash them.

Next, add the mayonnaise, mustard, salt, and pepper to the mashed yolk. With a mixing spoon, combine the spices and the yolk.

Fold in the bacon and chives. You can add as much or as little of the two as you like—just remember to keep a small amount for garnish at the end.

Evenly scoop generous teaspons of the yolk mixture into the halved egg whites. You may also use a piping bag for ease if you have one.

Garnish the eggs with extra pieces of chives and bacon. You may also choose to add a sprinkle of paprika on top.

Serve immediately or store in the fridge for up to 5 days.
Nutrition Facts
Delicious Bacon and Chive Keto Deviled Eggs
Amount Per Serving
Calories 66
Calories from Fat 63
% Daily Value*
Total Fat 7g 11%
Cholesterol 6mg 2%
Sodium 207mg 9%
Potassium 7mg 0%
Total Carbohydrates 0.2g 0%
Protein 1g 2%
* Percent Daily Values are based on a 2000 calorie diet.
Buttery Green Beans With Almonds
A classic side dish, green bean almondine is our go-to accompaniment for any Easter feast. Silky-smooth butter and crispy almonds give this dish a texture and taste worth savouring every bite. Add minced shallots or garlic to add a little punch of flavour to this recipe.
If you're running out of time or burners on the stove, you can also prepare this meal in the microwave. We've included additional instructions for this alternative method of preparation.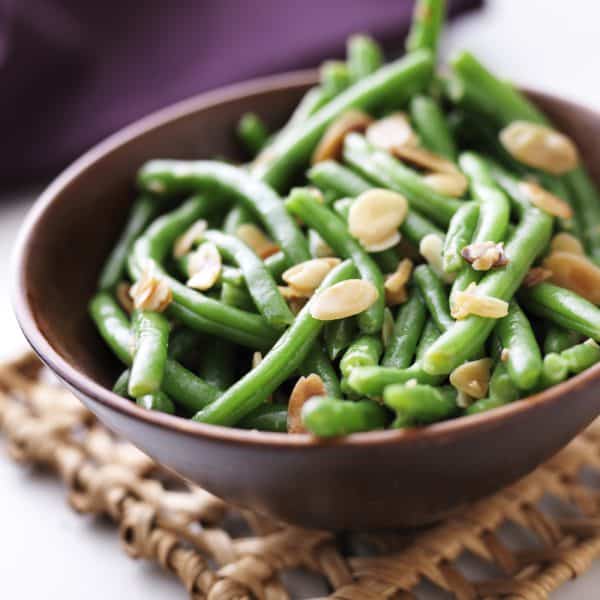 | | |
| --- | --- |
| | |
Wash and trim the green beans.

Prepare the lemon for squeezing and mince the garlic or shallots if you are using them.

Microwave: In a microwave safe dish, place the prepared beans in 2 tbsp of water and heat for 2-3 minutes. Drain, stir and leave uncovered to allow steam to escape.

Stove Top: Bring a pot of water to a boil, have a large bowl of ice water to the side as well. Add the green beans to the boiling water until tender and bright green. Drain the beans in a strainer and then place into the ice water.

Have a large pan over medium heat - add the butter and almonds (also add optional items of garlic or shallot). Cook until almonds begin to brown.

Add the green beans and coat in butter. Cook until warm all the way through. Squeeze lemon juice all over.

Add salt and pepper to taste.
Nutrition Facts
Buttery Green Beans with Almonds
Amount Per Serving
Calories 173
Calories from Fat 99
% Daily Value*
Total Fat 11g 17%
Sodium 9mg 0%
Potassium 289mg 8%
Total Carbohydrates 16g 5%
Protein 8g 16%
* Percent Daily Values are based on a 2000 calorie diet.
Low-Carb "Potato" Gratin
Our "potato" gratin is every Keto's dream. Subbing out potatoes with rutabaga gives this dish the low-carb swing we're all aiming for during the Easter feast. Packed with loads of cheese and crispy bacon, you'll want to make this again and again.
Remember, preparing rutabaga can be a bit tough if it's your first try. Before cutting both the bottom and top parts off, ensure you clean the vegetable thoroughly to remove any dirt.
If rutabaga isn't your style, other healthy alternatives include:
Turnips
Radishes
Parsley Root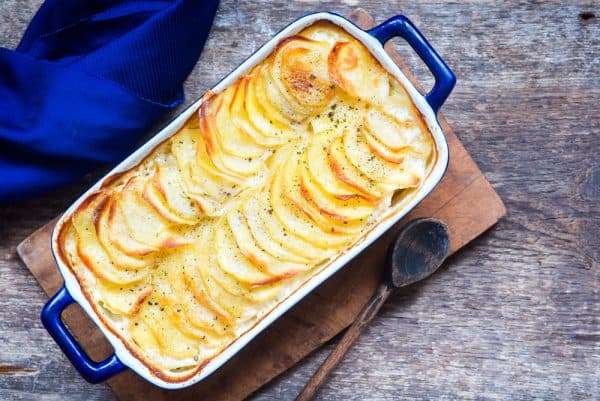 | | |
| --- | --- |
| | |
Preheat the oven to 320°F. Begin by slicing the onion and placing it in a hot pan lightly greased with ghee. Cook the onions for up to 5 minutes while stirring over a medium heat until fragrant.

Add sliced bacon to the cooked onions. Then add thyme and cook until the bacon is lightly browned. Set aside.

While the bacon and onions rest, peel, then thinly slice the rutabaga into 1/4 cm slices. You should have 3 layers worth of rutabaga.

Grease a large baking dish with ghee and place one layer of sliced rutabaga. Cover the first layer with your bacon and onion mix with a half cup of the grated cheddar cheese. Repeat.

Finally, for the last layer of rutabaga slices, combine the cream, chicken stock, salt, and pepper in a separate bowl and pour over the last layer until almost covered. Season to your liking if needed.

Cover the baking dish with aluminum foil and place a cookie sheet or another baking dish underneath the gratin to catch any juice drippings. Bake for 1 hour, covered.

After the hour, the rutabaga will soften. Remove the aluminum foil and push the rutabaga down with a spatula to immerse it with the cream mixture (prevents drying out!). Bake for another 45-60 minutes while routinely pressing the rutabaga down every 15 minutes or until the rutabaga gets tender.

After the hour, take it out of the oven and spread the creme fraiche and grated parmesan cheese on top. Meanwhile, turn the oven up to 400°F.

Bake the gratin for another 20-30 minutes (until the cheese has melted).
Nutrition Facts
Low Carb Rutabaga "Potato" Gratin
Amount Per 227g
Calories 179
Calories from Fat 135
% Daily Value*
Total Fat 15g 23%
Cholesterol 49mg 16%
Sodium 641mg 27%
Potassium 42mg 1%
Total Carbohydrates 19g 6%
Protein 10g 20%
* Percent Daily Values are based on a 2000 calorie diet.
Keto Lemon Meringue Pie
Go for this old-school recipe with a Keto twist. Loads of butter and tangy, fresh lemon make this pie flakey, smooth and to-die-for!Your guests won't even be able to tell that they're eating a healthier alternative.
Although this pie is higher on the difficulty scale, we're certain you'll be able to master this pie if you follow our directions. If you plan on storing the pie, we would not recommend longer than a few days, as the meringue may begin to sweat.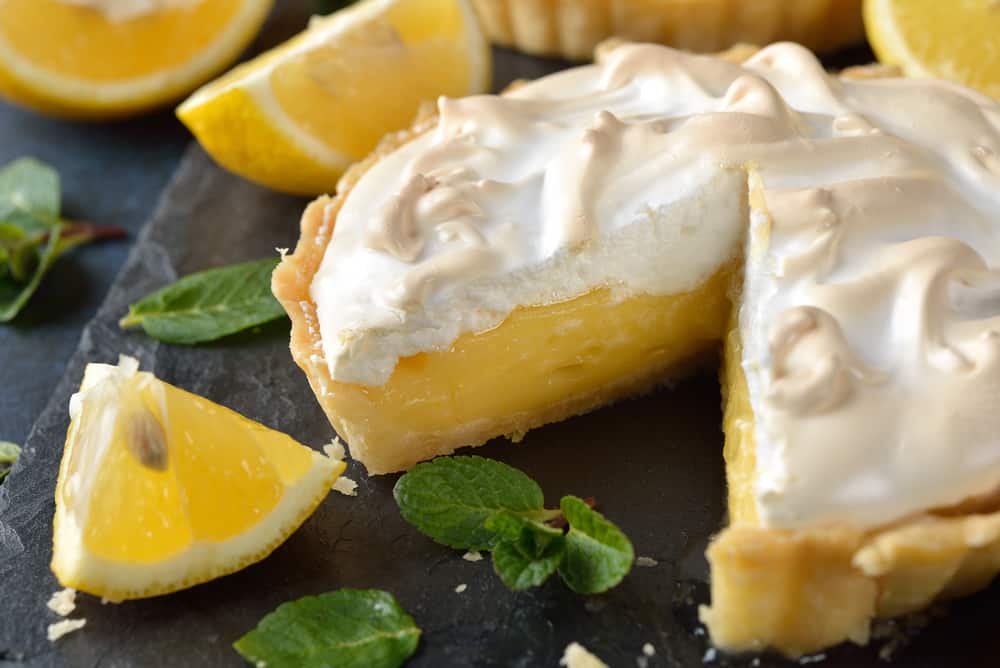 Passive Time

30

Minutes for Pie to Cool and Settle
Passive Time

30

Minutes for Pie to Cool and Settle
Preheat oven to 350°F. Use a food processor to combine and pulse all the ingredients for the crust. Press crumbs into your pie pan and bake for 10-12 minutes.
Combine sugar, gelatin, salt, arrowroot and water in a saucepan and bring to a boil while stirring constantly for 1 minute.

Beat your 4 egg yolks and pour some of your gelatin mixture into the beaten yolks. Stir and pour this back into the saucepan to cook until it has thickened. Warning: Do not allow the mixture to go above 160°.

Whisk the lemon juice, butter, and lemon zest together into the egg/gelatin mixture and then remove your saucepan from heat.
Beat the egg whites with cream of tartar at a low speed in a bowl until it becomes light. Slowly pour in sugar and beat until stiff peaks form.
Pour the egg and gelatin filling into the pie crust and cover with the meringue. Add extra meringue to the centre and make sure all the edges are sealed.

Bake the pie for 30 minutes or until the meringue is lightly browned. Set aside for one hour, then keep in the refrigerator for another 4-5 hours.
Nutrition Facts
Keto Lemon Meringue Pie
Amount Per Serving (200g)
Calories 621
Calories from Fat 486
% Daily Value*
Total Fat 54g 83%
Cholesterol 87mg 29%
Sodium 217mg 9%
Potassium 299mg 9%
Total Carbohydrates 22g 7%
Protein 12g 24%
* Percent Daily Values are based on a 2000 calorie diet.
And there you have it—an easy guide to making a delicious Easter meal that the whole family can enjoy. We've got you covered when it comes to serving up low-carb, healthy meals.
I can guarantee that your family will be asking you to make these dishes year after year.
If you loved this Easter guide, check out our Keto Thanksgiving Dinner guide for more great Easter food options.
(Visited 2,842 times, 187 visits today)